18 July 2019 - 12 August 2019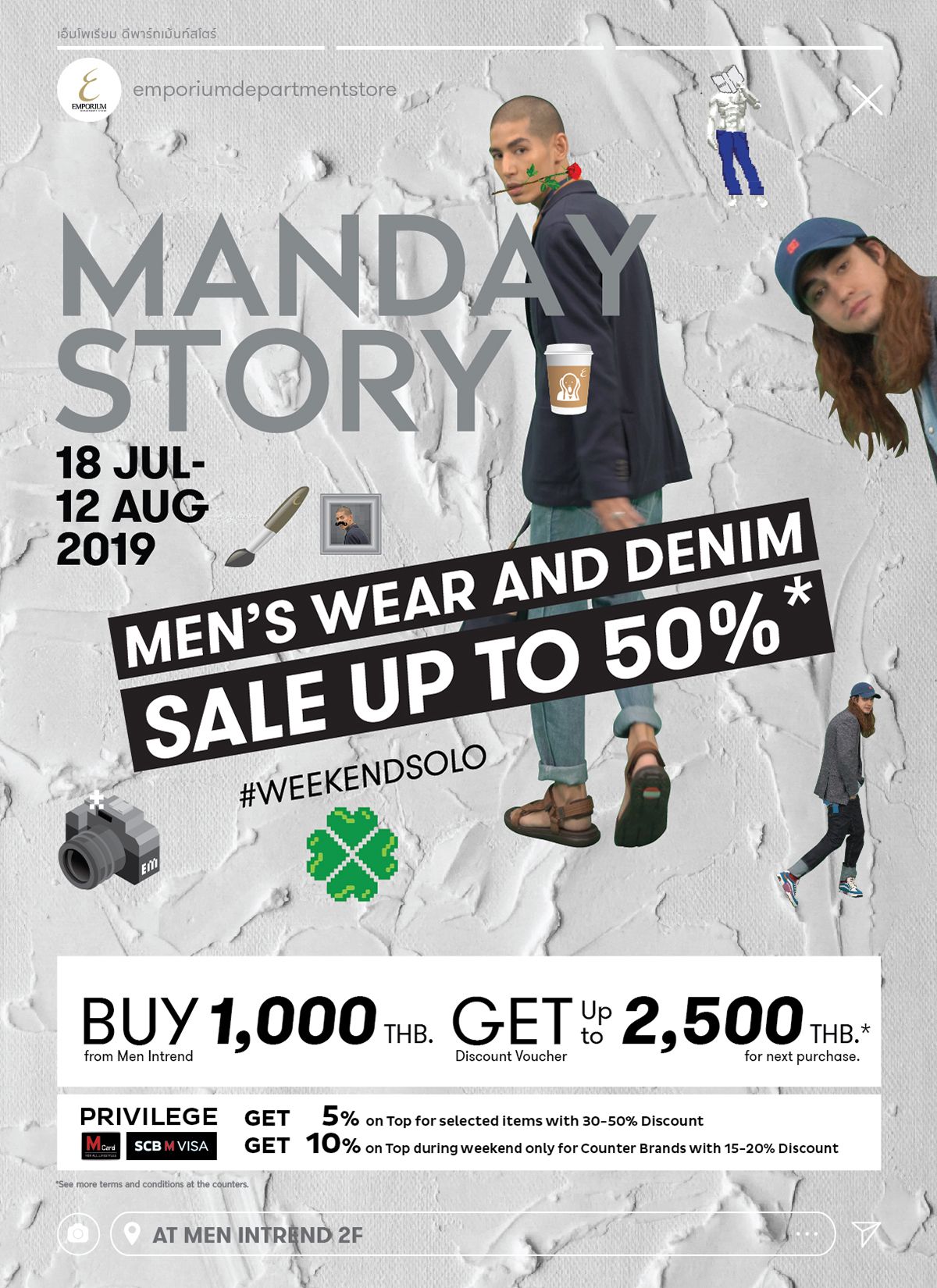 Manday Story 18 July – 12 August 2019
MEN'S FASHION & DENIM SALE UP TO 50%*
Manday Story campaign with the biggest men's fashion & denim event from leading denim brands portrayed through 3 men who each have unique lifestyle and character. Every style, though, is casual fashion with denim as the key piece that can be mixed and matched for a new look for men of all lifestyles. There are also special promotions of the year. Manday Story is held from 18 July to 12 August 2019 at Men Intrend Department at every branch of The Mall, Emporium and Paragon Department Store.
Emporium Department Store man is artistic, seeing the world as an opportunity for endless learning. He spends his weekends searching for vintage cameras and records, sipping cold brew coffee, viewing art or searching for books by his favorite authors. He finds these activities meaningful. His dressing style is sophisticated with a touch of chic and smart, which is done by mixing denim with the ends cuffed and matching with a vintage shirt in paisley print, paired with a relaxed blazer and sandals.
Men Intrend is offering the biggest promotion of the year for denim lovers to shop at great prices: spend 1,000 baht at Men Intrend, receive discount voucher worth up to 2,500 baht**. The coupons consist of buy 2 get 1 free*; 50%* off on blue, brown, bags collections; 2,000 baht* discount with purchase of 4,000 baht (at Men Intrend, Luggage and Denim departments); 500 baht* discount with purchase of 1,500 baht (at Men's Shoes & Bags)* according to terms and conditions on participating merchandise. M Card and SCB M Card members receive additional 5%*. Enjoy Special Weekend deals on 18-21 and 27-29 July and 3-4 and 10-13 August 2019 with new arrival merchandise up to 20%* off and additional 10%* off on top for M Card and SCB M Card members.